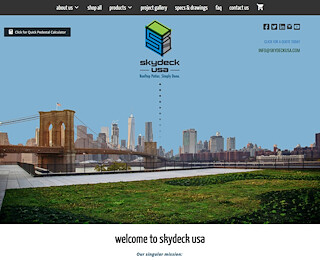 Best Plastic Pedestals for Pavers and Tiles
Are you looking for a solution for elevated flooring that is both simple and affordable to use? There's no need to look any further than the plastic pedestals on Skydeck. These adjustable pedestals will save you time, money, and headaches during the installation process. They were designed by installers just for installers. In this piece, we will discuss the advantages of using plastic pedestals for pavers and tiles, as well as the reasons why Skydeck is the best option when it comes to elevated flooring requirements.
What are plastic pedestals?
The flooring can be raised off the ground with the use of a support system known as plastic pedestals. These pedestals are designed to be long-lasting and sturdy due to the high-quality materials they are constructed from, such as high-density polyethylene (HDPE), and the materials themselves. They have heights that can be adjusted to suit your needs and are adaptable for usage with a wide variety of materials, such as pavers and tiles.
What are the benefits of using plastic pedestals?
There are numerous benefits to using plastic pedestals for your elevated flooring needs. Some of these benefits include:
-Easy installation: Plastic pedestals come fully assembled in the box and are easy to install. They adjust with a simple wingnut on the side, making it easy to get the perfect height for your flooring.
-Minimal labor: With plastic pedestals, there's no need to lay and pick up pavers multiple times to get them level. The pedestal can adjust while the tile is sitting on top of it, saving you valuable time and energy.
-Cost-effective: Compared to traditional installation methods, such as concrete or mortar, plastic pedestals are a cost-effective solution for elevated flooring.
-Durable: Made from high-quality materials, plastic pedestals are designed to withstand the elements and last for years to come.
-Stocked for fast shipment: All pedestals are stocked and ready to ship, ensuring that you have the materials you need when you need them.
Why choose Skydeck's plastic pedestals?
Skydeck's plastic pedestals are the best choice for your elevated flooring needs. Here's why:
-Designed by installers for installers: Skydeck's adjustable pedestals were designed by installers for installers, which means they're intuitive and easy to use.
-High-quality materials: Skydeck uses only the highest quality materials, such as HDPE, to ensure that their pedestals are durable and long-lasting.
-Fanatical customer service: Skydeck believes that the true measure of a company is how well it serves its clients. That's why they offer fanatical customer service, ensuring that you have the support you need throughout every detail of the process.
-Easy product return policy: Skydeck understands that estimating the number and sizes of pedestals needed for a project can be difficult. That's why they offer a full refund less an 18% restocking fee for all complete, like-new pedestals that are returned in re-sellable condition.
-Proven process: Skydeck has a proven process to make your project go better, including asking great questions to fully understand your project, collaborating intelligently on your design, anticipating needs and problems, simplifying your life, and coaching you through the installation process.
What types of elevated flooring does Skydeck offer?
In addition to plastic pedestals, Skydeck offers a variety of types of elevated flooring, including:
-SkyWalk Ipe Deck Tiles: These high-quality, low-maintenance deck tiles are easy to install and provide a beautiful solution for rooftop decks.
-ADA-compliant pavers: Skydeck offers ADA-compliant pavers that are perfect for areas that require wheelchair access.
-LEED-certified pavers: Skydeck offers LEED-certified pavers that are made from sustainable materials and are environmentally friendly.
-Solar ballast pavers: Skydeck offers solar ballast pavers that are perfect for commercial and residential rooftop solar installations.
-Drain pavers: Skydeck offers drain pavers that are perfect for areas that require drainage solutions.
-Custom aggregates: Skydeck offers custom aggregate options, allowing you to choose the perfect color and texture for your elevated flooring needs.
How can I access Skydeck's technical data?
Skydeck makes it easy to access their technical data. Simply visit their website and click on the "Technical Data" tab in the navigation menu. From there, you can access information on their products, including plastic pedestals, SkyWalk Ipe Deck Tiles, and more.
What heights do Skydeck's plastic pedestals come in?
Skydeck's plastic pedestals come in adjustable heights from 3/8″ up to 38″. This allows you to easily adjust the height of your elevated flooring to meet your specific needs.
SkyDeck USA
(616) 308-6309
2966 Wilson Dr NW
Walker MI 49534 US